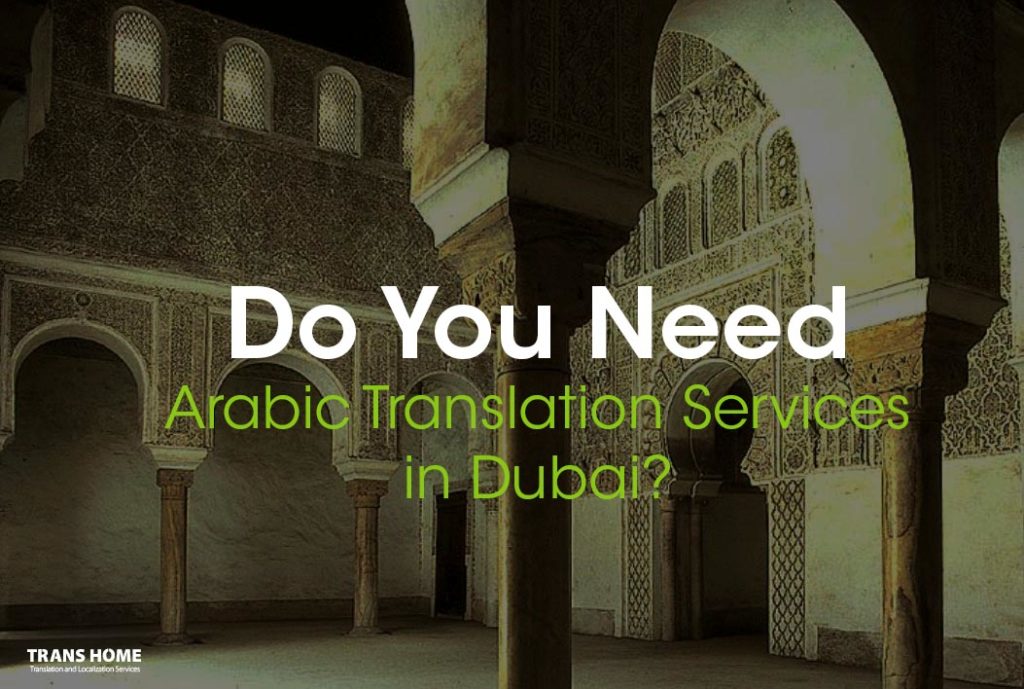 Do you need Arabic Translation in Dubai?
TransHome provides professional Arabic translation services in many areas of expertise such as Legal, Medical and Human Resources, Marketing & Advertising, Software, Apps, Websites and Games translation and localization services.
We have network of more than 3,000 native professional linguists who provide accurate and specialized Arabic translation services in all its styles and dialects.
Facts about Arabic Language
Since the Arabic is the predominant language that is officially spoken in twenty-two countries in North Africa and Asia, there are more than 350 million people speak Arabic as first language.
It is the liturgical language of Islam as well as, it is the language of its Holy Book "Al-Qur'an".
Arabic language is quite different from the European and Asian languages. It has unique characteristics as it is written from right to left (RTL), dates and times differ as well.
Arabic language has many varieties and dialects such as Egyptian Arabic, Moroccan Arabic, and Algerian Arabic, Levantine Arabic Iraqi and Gulf Arabic (Khaliji Arabic). 
Accurate, native, and innovative Arabic Translation in Dubai
Many companies sought free translation and localization services however, this was not a wise decision because free translation tools or software can provide poor and inaccurate meaning that certainly causes disasters.
We recommend ordering our professional Arabic translation services in order to get accurate, precise and specialized Arabic translation services.
Our innovative English into Arabic translation services ensures your message is correctly conveyed without losing the original meaning. In addition to our innovative language solutions that add real value to the required content for translation.
Arabic Translation in Dubai for Business
Several companies across the globe continue to benefit from accurate Arabic translation every hour because Arabic translation services and localization facilitate the business communications and link the company to its target audiences.
The demand for the Arabic document translation and localization services have increased tremendously in the recent years due to the large foreign investments and the diversity of the cultures in this region.
TransHome is the Best Localization Company in Dubai provides specialized Arabic translation services to several industries.
Arabic Legal Translation Services
As a professional Legal Translation Agency, we provide top-notch quality for the legal translation services including
Contracts and agreements

Power of attorneys

Memorandum of understandings

Laws and regulations Arabic translation

Arbitration documents legal translation
We have teams of professional native translators who have profound experiences in providing world-class legal translation services that meet your requirements.
Arabic Financial and Banking Translation Services
We understand the importance of the accurate translation for the financial translation services therefore; we have professional English into Arabic financial translators who produce flawless financial translation services.
For financial translation and localization projects, we assign a native project manager who have strong experience in the Arabic translation market and able to manage your project professionally in order to ensure the desired quality.
We provide professional Arabic document translation in Dubai for all the materials related to the finance, banking, and insurance including:
Annual Financial Reports

Balance Sheets and Statements

Bankruptcies

Tax Documents

Financial Researches

E-learning and Training Materials
Arabic Technical Translation Services
TransHome is a large Language Service Provider (LSP) in MENA region including Dubai – UAE, Cairo -Egypt and Kuwait provides diverse Arabic technical translation services for this area of specialization including Automotive, Engineering, Oil & Gas and Electronics & Appliances translation services.
We provide top-notch technical Arabic document translation to international companies in Dubai and Cairo as well as in US, Europe and Asia including:
User catalogs and manuals

Technical reports

System requirement documents

Installation guides

Specifications, datasheets, and descriptions
Arabic Life Science Translation Services
As a leading Legal Translation Company in Dubai and Cairo, we supply the entire sector with professional medical document translation services in accordance with the international quality standards.
We believe that one translation error can cost human lives, therefore; we pay special attention to medical, pharmaceutical, healthcare, and all the relevant translations to the life science sector.  
Furthermore, we apply rigorous quality procedures in addition; we retain a team of professional doctors and medical translators so that we can ensure 100% accuracy and precision to the Arabic document translations including:
Clinical protocols and clinical protocol synopses

Study drug labels and drug inserts

Study drug labels and drug inserts

Patient data and reports

Case Report Forms (CRF)

Medical devices components and software

Medical websites and applications
For more inquiries, you can order an Online Free Quote or Contact Us.